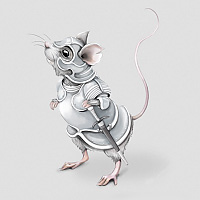 Shambhala Day 2020 - The Year of the Iron Mouse
Based on the traditional Tibetan celebration of Losar, Shambhala Day marks the beginning of the New Year, and represents one of the most important traditions of our community. Shambhala Day is a time for us to express the wealth and richness of our spiritual and cultural heritage through feasting and celebrating with the community.
We will start our celebration with a potluck dinner and live music, join in a practice called "The Elixer of Life," watch the Shambhala Day addresses, and welcome new members to our community. As many of you know, Shambhala Day is traditionally the day for expressions of generosity to the seat of Shambhala. Please bring your checkbook if you are so inclined!
Everyone, please plan to bring a dish to share and help with set up and clean up.